Welcome to the Future of Sports Advertising
The world of sports advertising is constantly evolving, and the National Hockey League (NHL) is leading the way with the introduction of technologies like digitally enhanced dasherboards (DED). This revolutionary technology is set to transform the way we experience sports broadcasts, making them more engaging and tailored to the viewers' preferences. In this article, we will explore the ins and outs of DED and how this technology, among others, will change the game for advertisers and fans alike.
The Rise of Digitally Enhanced Dasherboards
How It All Began
The journey to creating DED in ice hockey began in 1981 when the Minnesota North Stars first put advertisements on their arena rink boards. Over the years, the concept of advertising in sports has grown, and the NHL has taken it to the next level with this groundbreaking technology.
The Power of DED in Broadcasting
The DED system allows for the digital replacement of camera-visible arena dasherboards during local, national, and international NHL game broadcasts. This means that advertisers can now be seen on the boards for both home and away game broadcasts, allowing for a more immersive experience for viewers.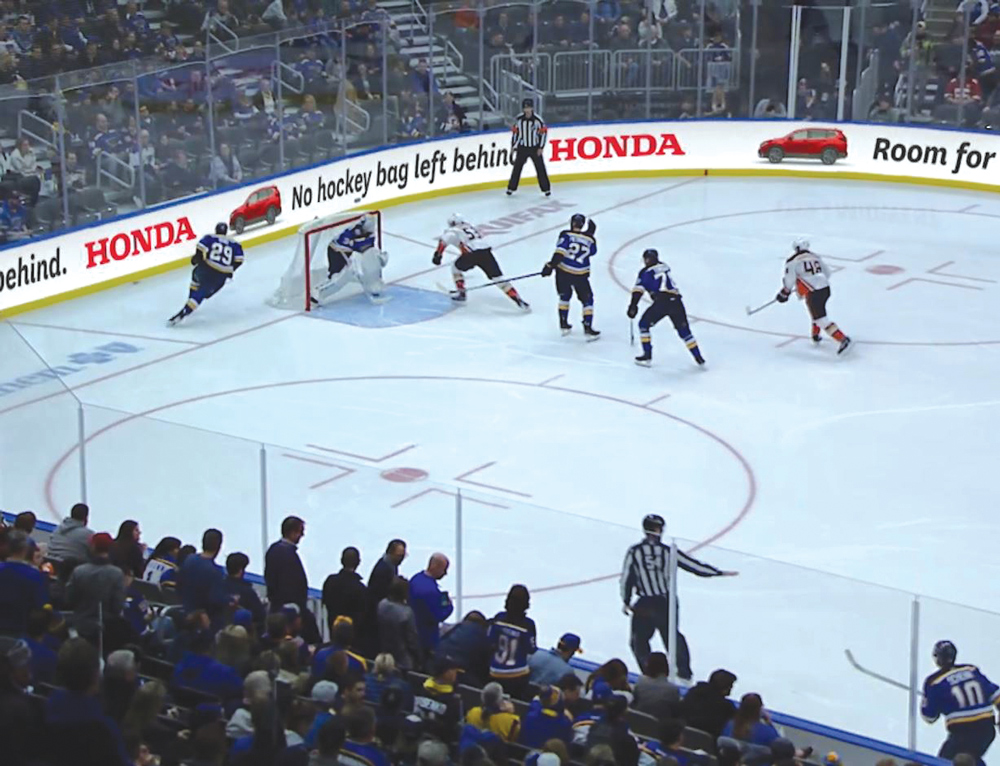 Creator: Jarod Were
What DED Means for Advertisers and Fans
Customization and Flexibility
One of the most significant advantages of DED is the ability to constantly change how and which advertisers appear on the boards. This level of customization means that advertisers can tailor their ads to specific audiences, while fans can enjoy a more personalized viewing experience.
Local and Global Reach
With DED, teams can sell as many regional game broadcasts as they can within their market, while also allowing European sportsbooks to advertise locally. This opens up new opportunities for advertisers and ensures that fans get to see the brands they love.
The Impact on the Viewing Experience
A Seamless Transition
Fans watching from home will hardly notice the difference between the in-arena boards and the digital dasher ads. This seamless integration ensures that the viewing experience remains enjoyable and engaging.
Adjusting to Change
Although there may be an adjustment period for some fans, research indicates that viewers will ultimately prefer the more streamlined look of DED. Over time, fans will become accustomed to the new technology, and it will become the norm in sports advertising.
Potential Challenges with DED Technology
While DED technology has many advantages, it's essential to recognize the potential challenges that may arise. One issue that broadcasters may encounter is the "clipping" effect, where players or other objects on the ice may appear to cut in front of the digital ads, causing a momentary disruption in the seamless integration of the advertisements. This can be distracting for viewers and may create a less polished viewing experience.
Addressing this challenge will require ongoing advancements in DED technology and close collaboration between the NHL, technology providers, and broadcasters. By continuously refining the DED system, the goal is to minimize such issues and ensure that fans enjoy a smooth, immersive, and engaging experience while watching their favorite teams compete.
The Impact of Social Media on the Advertising Landscape
Social media has transformed the advertising world in a fundamental way, disrupting traditional models and introducing new opportunities for businesses looking to connect with consumers. The sheer reach of social media platforms, combined with the ability to target specific demographics with precision, has made these platforms indispensable tools for advertisers.
But social media has also introduced unique challenges, such as the need to produce content that resonates with audiences and stands out in a crowded digital landscape. Today, you can find most ice hockey teams on every social media platform. As social media continues to evolve and new technologies arise, it's clear that its impact on the advertising landscape will only increase, making it critical for teams to stay on top of emerging trends and adapt their strategies accordingly.
Nashville Predators: A Model for Tech Investment in Sports
One team that truly stands out for its commitment to embracing new technology is the Nashville Predators. They have consistently invested in various technological advancements, including important partnerships like the one with collectID where they digitized their jerseys to offer fans and unique, interactive experience.
With this kind of "phygital" (i.e. physical and digital) merchandise , the Predators increase the value of their jersey and access a new way to communicate with fans. Phygital merchandise can also be leveraged as a sponsorship asset for ad campaigns and targeted offers.
The Nashville Predators' long-term vision and willingness to invest in technology serve as a shining example for the sports industry to follow in order to continue growing and evolving. By championing innovation and looking toward the future, the Predators are paving the way for other teams and organizations to embrace smart technology and create even more engaging and immersive experiences for fans.
Harnessing Smart Technology to Track Results of Digital Campaigns in Ice Hockey
In the fast-paced world of ice hockey, teams are always looking for a competitive edge. That's where smart technology like phygital merchandise comes in. With the ability to track the results of digital campaigns in real time, teams can make informed decisions and adjust their strategies on the fly. Whether it's analyzing social media engagement or monitoring website traffic, harnessing the power of smart technology is the key to success.
A key component for teams to effectively track campaigns is understanding their fanbase. collectID's technology, for example, gives clubs insight into their fanbase by knowing who owns what. Data like this allows organizations to stay ahead of the game and keep their fans engaged all season long.
The Future of Sports Advertising
Mainstream Adoption
Technologies like DED and phygital merchandise are setting the stage for widespread adoption across other sports organizations. The success of these technologies in the NHL demonstrates their potential to revolutionize how we experience sports broadcasts.
A New Era of Engagement
With DED, advertisers can now deliver more personalized and relevant content to fans, fostering a deeper connection between viewers and the brands they love. Similarly, phygital merchandise has the power to bring a completely new fan engagement experience by providing fans with exclusive and personalized content. This new era of engagement has the potential to change the way we interact with sports forever.
Conclusion: Embracing the Future
The introduction of digitally enhanced dasherboards and phygital technologies in the NHL marks a significant milestone in the evolution of sports advertising. As these innovative technologies continue to grow, we can expect to see a more engaging and personalized viewing experience for fans, while offering advertisers increased flexibility and reach. The future of sports advertising is here, and it's time to embrace the exciting possibilities that these technologies bring to the table.